Creating a Powerful Leadership Presence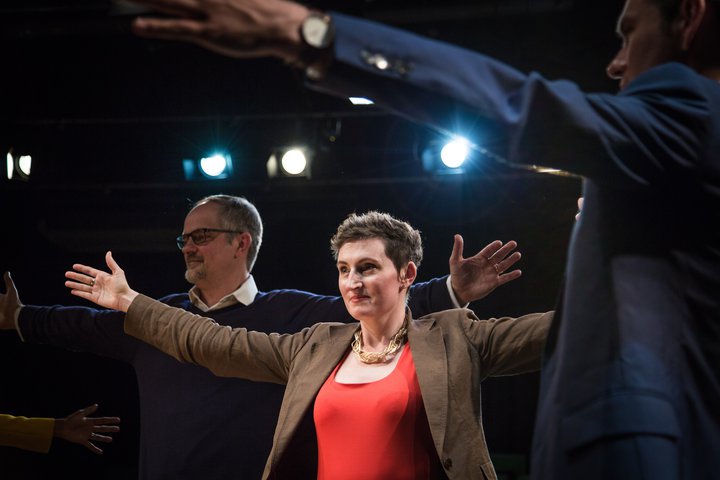 Learn how to embody the behaviours of brilliant leadership, inspire the people around you, and lead with openness and honesty.
Inspire others with authenticity
Designed for leaders who have ample experience leading teams over a number of years in a senior leadership, head of, or directorial role, this three-day programme takes a creative and wholly practical approach to leadership challenges.
The programme draws on our performance heritage, creating high stakes leadership scenarios to help you discover the resilience, courage and flexibility to craft and execute your own leadership initiatives. Learn and rehearse how to deliver difficult messages, inspire through authenticity and enable those around you to perform at their best.
What else can you expect?
Two specialist leadership tutors will offer in depth, individual feedback to coach you on your leadership performance throughout, alongside four highly skilled role-play actors.
A maximum participant/tutor ratio of ten to two provides a high level of individual attention, coaching and feedback.
Driving change within your organisational structure
Letting go of habits and behaviours that inhibit brilliant leadership
Developing, adapting and communicating ideas with skill
Protecting your working relationships whilst challenging people appropriately
Understanding the value of vulnerability in leadership
Flexing your performance to meet the individual needs of your team

Extras
Pre-course coaching call with your tutor
Role-play scenarios in our studio theatre
One-to-one coaching session on day three
Introduction to leadership performance
Gain an idea of what it's like to work with us by watching our tutor, Kate Walker Miles, speak about the difference between managing and leading, and why she loves working with leadership clients.
Book for in-person
Helpful to know
The safety or our staff and participants is paramount and our courses will take place at venues that, at least, comply with the latest government and industry Covid-19 guidelines. When attending courses, you will be expected to follow any venue-specific requirements, which may ease at a slower pace than government guidelines. There is more information on our Frequently Asked Questions page or contact us at opencourses@radabusiness.com.
Choose the start date of your in-person course through Eventbrite
Eventbrite price includes VAT