Executive Presence for Women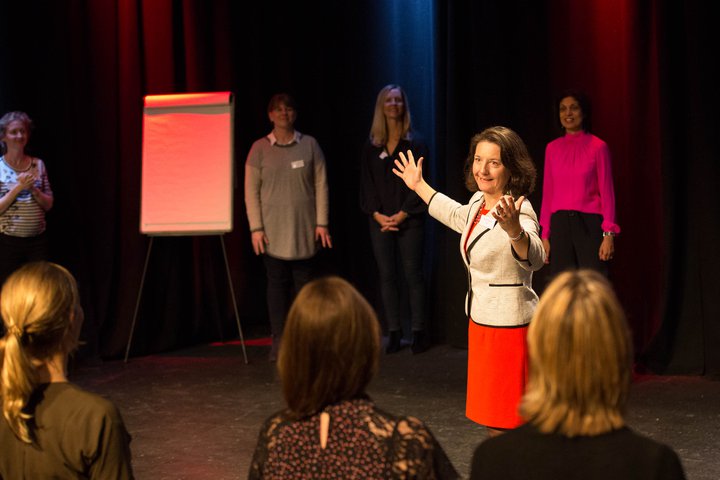 Performing brilliantly at a senior level involves more than just technical expertise; it requires excellent communication skills, commanding presence and supreme confidence.
The three-day Executive Presence course develops your skills to enable you to be truly effective in business, by learning to communicate with authority, authenticity and impact.
We have taken over a decade's worth of experience working with senior executives and translated this into a rigorous, fully participative experience that will enable you to hold your space, find your voice and be heard – so that when you speak, you are heard.
This practical course explores what type of communicator you are and what type of communicator you could become. Through structured learning, tutor coaching and peer feedback you will learn strategies to develop resilience and communicate with presence, effectiveness and credibility.
A maximum participant/tutor ratio of eight to two provides a high level of individual attention, coaching and feedback.
Foundation or Applied level - pick your level
Foundation level (cost £3,300 + VAT). Includes all of the above.
Applied level (cost £5,550 + VAT). In addition to the above, participants receive two, two-hour one-to-one coaching sessions focused on mastering your skills and applying what you've learned. We also provide you with a third, complimentary one–to-one coaching session to help you work on and sustain your skills.
Advanced skills to finesse your performance
Analysing and exploring how strong women leaders embody confidence
Building on your successes
Building status, resilience, and gravitas
Discovering how your dominant female archetype influences how you are perceived
Discovering new strategies to influence others and change behaviours
Exploring techniques to manage your energy and stress levels
Fine-tuning your physical and vocal presence and skills
Holding and owning your space
Learning how to interrupt and handle interruptions assertively
Learning to communicate with authority, authenticity, and credibility
Refining your skills by role-playing real business scenarios

Extras
Pre-course online assessment: setting personal objectives
30-minute coaching call before day three
Weekly power-up exercises over 12 weeks to support your learning