Executive Presence for Women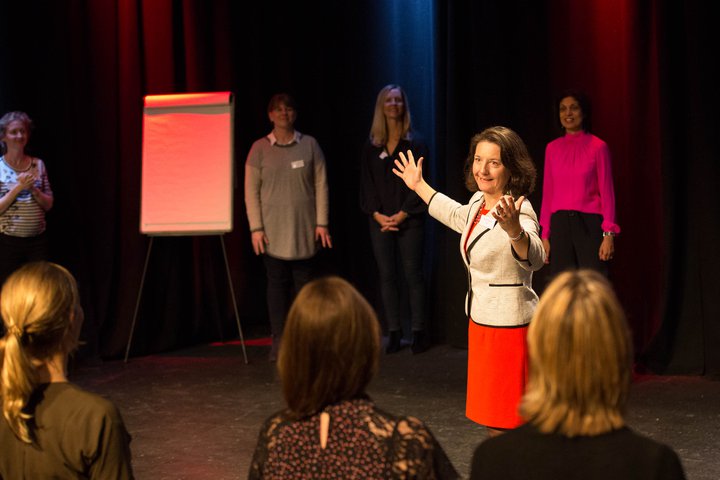 Executive Presence for Women is an engaging, empowering, and rigorous programme, exclusively designed to help senior women excel at work.
Your best performance
Performing brilliantly at a senior level requires excellent communication skills, a commanding presence and supreme credibility.
This executive leadership programme gives you the tools to lead with impact and gravitas.
It focuses on how to build physical and vocal impact, to be resilient during times of crisis, to hold your space, find your voice and create a powerful impact – ensuring that when you speak, others listen.
What can you expect?
We have taken over two decades' worth of experience working with senior executives and translated this into a rigorous practical programme.
Through structured learning, coaching and peer-to-peer feedback, you will develop strategies to influence skilfully, and communicate in an engaging and authentic way. The learning is rooted in theory, which underpins the practical and embodied nature of the work.
Following the completion of the course, you will be further supported by weekly power-up techniques, as well as one-to-one coaching with your tutors.
The participant : tutor ratio ensures a significant level of individual attention, coaching and feedback.
Foundation or Applied level - pick your level
Foundation level (cost £4,400 + VAT). Includes all of the above.
Applied level (cost £6,650 + VAT). In addition to the above, participants will also receive three, two-hour individual coaching sessions with one of their tutors, a qualified, executive coach. The sessions focus on mastering your skills and applying what you've learned. The coaching sessions need to be completed within 12 months of the date of your final group session, to ensure maximum benefit.
Outcomes:
Equipped to lead with authority, authenticity, and credibility
Understanding of how strong female leaders embody confidence
Connection to your dominant female archetype, and how it influences the way you are perceived
Progressive and powerful strategies to influence others, linguistically and behaviourally
Enhanced techniques to manage your energy and stress levels
Embodied status, resilience, and gravitas
Fine-tuned physical and vocal presence and skills
Clarity on how to hold and own your space
Empowered to interrupt and handle interruptions assertively
Refined skills through role-playing real business scenarios
Extras:
A pre-course online assessment on setting personal objectives
30-minute coaching call during your programme
Continued reminders and exercises to keep your learning alive
The opportunity to attend the RADA Business Women's Network's quarterly networking events