Personal Impact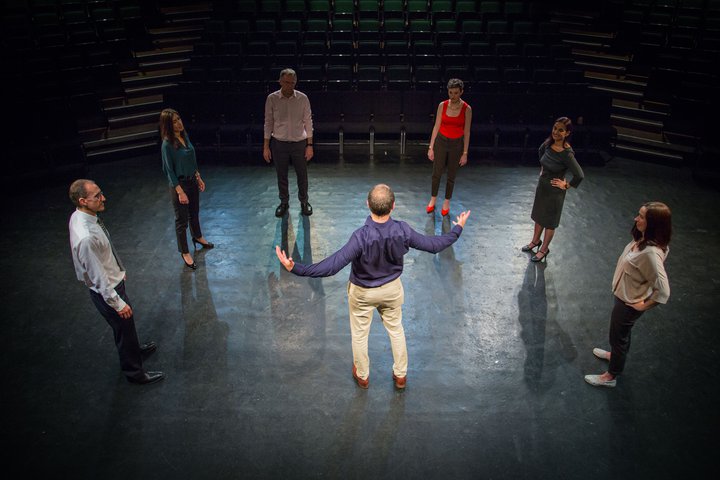 Struggling to have your ideas heard at work?
Make an impact with confidence
Become a clearer and more effective communicator, whether you're at a networking event, explaining an idea to a colleague, or running a team briefing.
Learn the fundamental tools for communication – using the body, breath and voice – and how to hold your space, both in-person or virtually.
What else can you expect?
Develop skills to ensure your voice is heard, even during challenging workplace situations
Learn techniques to relate to others with ease
Explore your own communication style, and understand how it affects your impact
Practical exercises to improve both vocal and physical presence
Group sizes are small to ensure participants receive individual attention from the Tutor throughout the programme.
Foundational level – aimed at those at the early stages of exploring their communication style . Please contact us if you are uncertain that this is for you.
Outcomes
Techniques for holding your space and for actively giving and receiving attention
Ability to find an opening to enter a discussion
Insight into how gesture and physicality can be used for greatest impact
Improved confidence, whatever the scenario
Greater self-awareness of how you come across to others
Enhanced presence for both in-person and virtual meetings
By the end of the programme you will have built up the confidence and comfort to be the best version of yourself, even when under pressure.
Book now
All dates for the programme are visible under the link below.
You may pay by credit card (including AMEX) or by invoice. Please follow the link for all payment details.
This programme takes place in central London. Our team will confirm the specific location within a week of booking.

Please view our terms and conditions before booking.
If you have any questions, please contact us at openprogrammes@radabusiness.com.