Virtual Media Performance
Are your spokespeople prepared for the spotlight?
Over the past few months we've all seen how media interviews have changed, as everyone continues to adapt to the reality of working – and performing – in a virtual environment.
We're seeing formal announcements and interviews being delivered by CEOs and media spokespeople from home offices and dinner tables, as leaders get used to delivering messages remotely, without the support of a professional crew and the benefits of recording in a well-lit studio.
From not placing your laptop on the coffee table to being aware of your vocal presence and background, it is more important than ever to ensure that leaders can communicate a strong virtual media performance.
Delivering a professional and authentic performance for any virtual media demands particular skills and techniques, as RADA Business Client Director Rachel Griffiths explains:
"Media interviews are often the cause of much trepidation for our clients. Having to manage your delivery to get the impact you want, as well as the practical requirements of managing your own stage, set and lighting, is daunting. Any media interview represents an opportunity for a leader to deliver their message in a highly visible medium, to be the ambassador for their brand, and to build trust with their stakeholders. In addition, many interviews are often recorded and shared across multiple channels and audiences, so a strong media performance is even more important to ensure that the opportunity is maximised."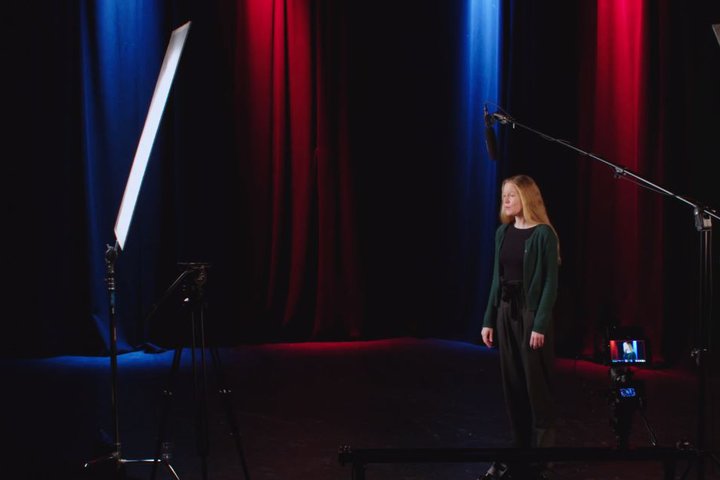 Delivering your best virtual media performance
This is where our new Virtual Media Performance programme can help. An extension of our Virtual Stage platform, this new, bespoke and practical programme focuses on how to deliver an authentic media performance even when working remotely.
The delivery
The programme is delivered virtually through two 3.5 hour long modules. Each session is based on in-depth personal feedback, coaching and direction, including practical exercises, discussion and analysis, tailored to your specific needs.
In the first module, participants receive one-on-one direction on how to flex between communication styles for different audiences and situations, whilst exploring physical and vocal presence. From the basics of how to set up your screen, lighting and background, to the importance of increasing your vocal range and expanding your physical presence.
In the second module, professionals learn how to hold their space, maintain their state in high-stakes-scenarios, and deliver their message with clarity and impact.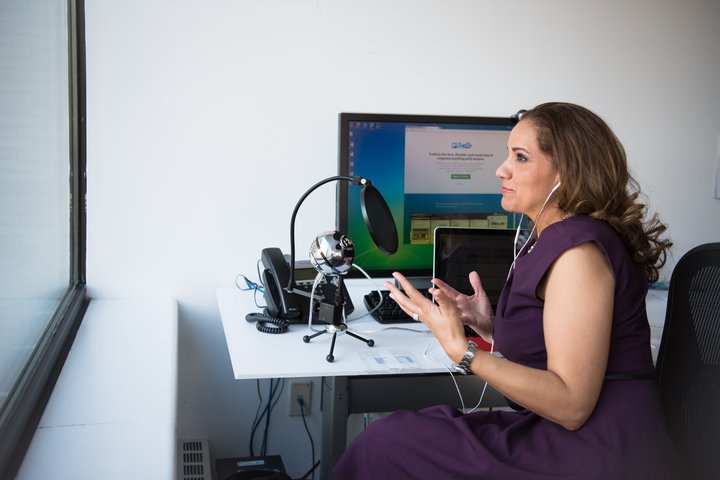 The benefits
As we continue to navigate the challenges of remote working in a post-Covid world, the need to deliver clear communication that audiences can trust has arguably never been more vital. Leaders need to be able to harness the media to deliver their message in the right way, whether it is a message that will be seen through a TV screen, or one that will be delivered through a webinar, or online meeting.
As Rachel Griffiths, RADA Business Client Director, says: ''A leader must have a heightened awareness of their personal delivery and be able to embody their message. Communicating authentically by ensuring what they are saying matches what they are feeling, thinking and behaving is key. A spokesperson with the right media know-how – not just in media technique, but in personal performance – can make or break some businesses. A strong media performance can build trust, increase engagement and impact share price."
These are precisely the issues that our Virtual Media Performance programme can help leaders to understand and explore.
Virtual Media Performance covers:
Understanding the basics – from setting up the computer screen to achieving the best lighting and background combination
How to pitch your voice to appeal to your audience
Increasing vocal range to build gravitas
Expanding your physical presence to enable you to hold your space on screen
Techniques to deliver your best authentic performance, in any situation
Want to learn more about our Media Performance Programme? Contact our team on +44 (0)20 7908 4830 or ask@radabusiness.com, to find out how we can help you deliver.