Hold your space with confidence
International Women's Day guest blog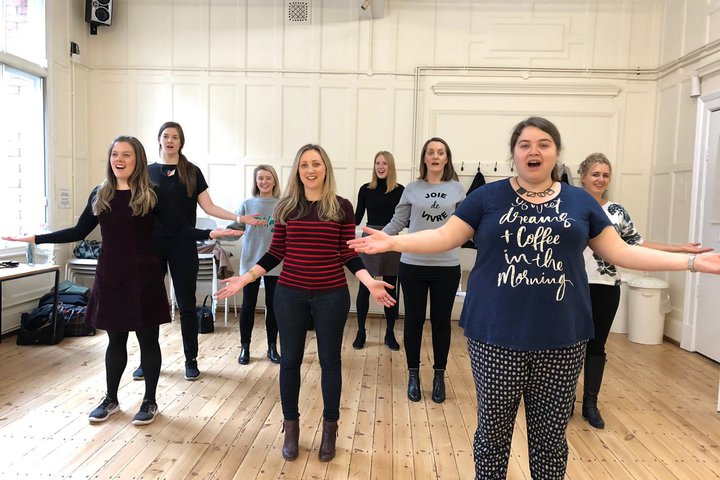 Earlier this month, we designed a bespoke one-day, in-house course for women consultants at Moorhouse, run by RADA Business tutor Abi Eniola.
Rebecca Farmer, Energy and Utilities Lead at Moorhouse and one of the course participants, fed back to us about the parts of the programme that resonated with her – and why – for International Women's Day 2019. #BalanceforBetter.
Rebecca's story
In the top 80 UK energy companies, only 13% of board members are women. This time last year, the UK reached a record number of 29% of FTSE 100 board positions being held by women, although the UK population is 50.7% female.
Since consulting predominantly in the Energy and Utilities sector, I can count on one hand the number of times I have reported to, or been managed by a woman. In fact, it's been just three times across all the internal and client roles throughout my career.
This month, I was lucky enough to spend a day on the RADA Business one-day, in-house course: Hold your Space with Confidence. This bespoke and highly interactive workshop was specifically designed for senior women working for Moorhouse. I spent the day with seven of my female peers, each of them fantastic, driven women who bought a unique set of strengths and personal perspectives to the day.
We left the day armed with renewed energy, and a series of tools and techniques for our personal armouries, each knowing one another better. We talked about imposter syndrome - the nagging doubts and little voices in our heads. We practised taking risks and stepping out of our comfort zones – embracing discomfort to learn and stretch ourselves. We promised to do more to support each other and our female peers, being better role models who empower the other amazing women in our lives.
One of the themes which really resonated with me was how to 'hold space' - balancing being a powerful leader who takes risks, while allowing my authentic passions, energy and vulnerabilities to shine through. This built on a recent women's networking event I attended, in which all of the speakers on the panel advised women to clearly articulate their professional ambitions. Being assertive can mean saying 'I want…'
So, let me start to try to bring this all together and start to demonstrate this, right here, right now.
I love working in energy
It's a dynamic, exciting sector with the potential to save the world or ruin it; featuring businesses that need to balance safety and regulations with being innovative and agile; sometimes bringing politicians together and occasionally leading nations to war.
It touches all our lives. All day. Every day.
Right now, I cannot imagine doing anything else. I want to continue working in this vibrant and challenging sector. My ambition, my dream, is to become a board member of an energy company. It will be a long road and a lot of hard work. But I have the potential to be exceptional.
Links to statistics