John Hoggarth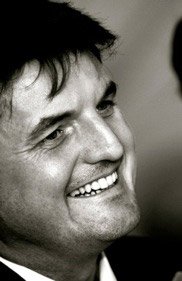 John is an actor and director who has worked in the business sector for over 15 years. Using his theatre experience, he has built a strong personal reputation as a facilitator and coach, helping clients unlock to their potential and discover a more confident approach to both business and social communication. His creative approach means that all his sessions are highly interactive, supportive and lively, whether in group facilitation, role play, forum theatre or one-to-one coaching.
John holds a BA Hons in Theatre Arts from Rose Bruford College. He was joint artistic director of the National Youth Theatre from 2003-2008, where his successful leadership included an ambitious strategy of expansion and growth.
In his corporate work John has worked with a range of organisations including law and professional firms, blue chip companies and public sector organisations, in particular with senior managers developing personal impact and confidence, handling crucial conversations and feedback, and leadership development.
His clients have included: BP, Allen & Overy LLP, the Results Consultancy, the NHS, S J Berwins LLP, BT, Price Waterhouse Coopers, the Home Office, Lovells LLP, Rolls Royce, AXA Insurance, Adidas, Citigroup, Vodafone and the Olympic Delivery Authority.