Sarah Walker, former Senior Manager, M&A Integration at Baker Hughes, a GE company
"GE is committed to recruit, retain and develop our female talent within the company. Within our organisation, we have a 20-year-strong professional Women's Network that leads events throughout the year to engage women, bringing external speakers, running training sessions, and providing a forum for working groups to engage in thought leadership."
My connection with RADA began when I completed a one-to-one coaching session with RADA Business. On the tutor's desk, I saw the freshly printed RADA Business brochure with the following phrase: 'Performing on stage every night means you have to be on it. There is no second take. Just as it should be in business'. In GE, we have 500 women across the UK & Ireland who are 'on stage' every day with clients. To build a pipeline of future senior leaders in the company who can excel with clients, we need to enable our employees with not only the technical know how, but the voice and performance skill set that allows them to recognise the power of their voice, to build an effective message, and to own their space with confidence in order to win for GE and our customers. Practising on a 'safe stage' to deliver meaningful impact through one's voice is a critical skill-set to learn as one becomes a leader – the RADA programme delivered just that. So I brought forward a proposal to create a GE-tailored RADA Business in-house training course for our senior women at the company.
After researching the RADA Executive Presence for Women open course with my GE Women's Network leadership committee, I felt each of the practical training needs we had identified for our sales women were clearly covered within the Executive Presence for Women course and that it would be highly relevant for all employees in client facing and leadership roles.
I garnered sponsorship for the course from GE leadership across our Healthcare, Oil & Gas and Aviation businesses in the UK to provide the GE women managers with a top-notch external training that gave new insights into their effectiveness as a leader. The tailored in-house programme was launched at the end of 2016 with two full-days of training at the RADA Studios followed by a third day 6 weeks later, allowing participants to absorb the learnings, put them into practice and receive one-on-one coaching in the interim as they tested out their new skills. The training excelled in terms of guiding participants through voice technique, physical presence and how to successfully communicate a message with passion and impact. It brought theatre-inspired skills into our workplace, something refreshingly out-of-the-box at GE.
Another advantage of the RADA Business training is that it's a fantastic opportunity to get connected with an external network of 300 other senior women who have experienced the Open Course at RADA or in-house training. RADA Business has regular Women's Network events and refresher sessions in London - another great way to connect with other UK women in business from a variety of industries.
The initial RADA Executive Presence for Women GE participants were so invigorated by the training that every delegate has since volunteered alongside me, on top of their day job, in GE's 'Commercial Women's Network' to help more women advance their careers.
To complement the individual training tailored to our senior women, we launched a modular course in partnership with RADA Business for our junior-to-mid level female talent. RADA Business coaches successfully delivered 'Become the Leading Lady' masterclasses at Commercial Women Roadshow conferences we held in Shannon (Ireland), Aberdeen (Scotland), and Rugby (England) – reaching over GE 240 women with the senior women's voted 'best' training elements of the full Executive Presence for Women course.
This year, we will be sending our next round of GE senior women on the full RADA Executive Presence for Women open course …Watch this space!"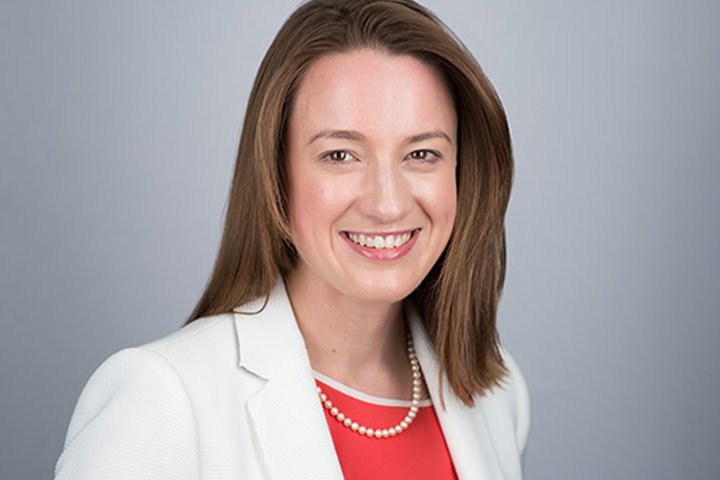 Sarah Walker was the Revenue Synergy Leader for Baker Hughes, a GE Company merger integration team, responsible for growth and revenue synergy capture for BHGE shareholders through cross-sell and innovation. Sarah began her career with General Electric (GE) as part of their Financial Management Programme in Europe and went on to hold senior roles in Oil & Gas across corporate finance and commercial operations between 2010 and 2019. In addition to her day job, Sarah led GE's Commercial Women's Network for the UK & Ireland with responsibility for developing GE's +500 pipeline of female talent in sales and commercial roles across the country.
Sarah holds a dual-degree MBA from Columbia Business School and London Business School, an LLM Master of Laws with Commendation from University of Aberdeen, and a BA Cum Laude from Wake Forest University.